For those who wish to enjoy some peace and quiet in pleasant surroundings the Parish Council maintains two amenity sites, St. Paul's Amenity Garden and the Church Hill Public Amenity Area. The exact locations can be found on our map page.

St. Paul's Amenity Garden.
"A community garden is any piece of land (publicly or privately held) that is cultivated by a group of people rather than a single family or individual".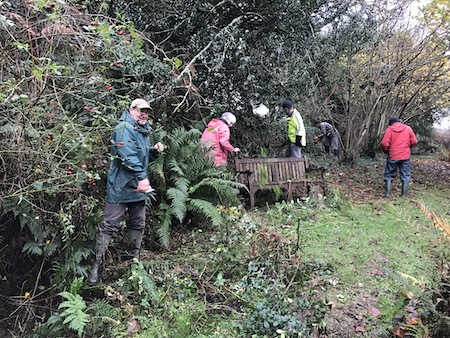 Ludgvan is lucky enough to have its own woodland garden, tucked away behind St Paul's Churchyard, thanks to a donation of land to the Parish Council by the Higgin family.
The garden was planted up with wild flowers, grasses and approximately 300 trees and shrubs, including escallonia, oak, hawthorn, holly, hazel, birch, ash, wild roses, wild privet, guelder roses, elderberry, cherry and honeysuckle.
Officially opened in May 2008, the aim of the garden is to provide a natural environment where wildlife may thrive and people can enjoy the tranquillity of a beautiful location.
Now, garden volunteers are undertaking a revamp to make the garden more accessible and revitalise the planting.
Garden Volunteers
Armed with secateurs and garden forks, local garden volunteers meet for seasonal maintenance sessions under the supervision of the Parish Council's arboriculturist. If you would like to get involved, please contact the clerk at clerk@ludgvan.org
At the same time another piece of land (approximately one acre) sited very close to the new cemetery was also gifted to the Council and this now forms the St. Paul's Amenity Garden – a beautiful, lightly managed oasis of calm intended for the peaceful enjoyment of all.
Church Hill Public Amenity Area.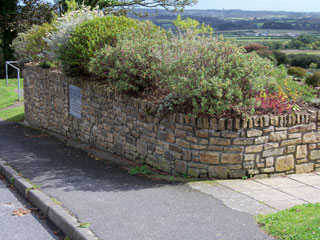 To mark the Millennium, a joint enterprise between the Royal British Legion and Ludgvan Parish Council (with the advice and assistance of the Ludgvan Horticultural Society) created an amenity and viewing area on Church Hill, incorporating an RBL memorial garden. The site until then was occupied by a seriously dilapidated 'green shed' – opposite the Old Ludgvan School. This shed, sometimes known as the Ludgvan Churchtown Reading Room, had been used during the Second World War as an overflow classroom for evacuees and, more recently, from 1952, as the home of Ludgvan Parish Council. The shed was demolished in 1999.
The Royal British Legion memorial garden offers a magnificent view of St Michael's Mount and incorporates a number of re-located memorial tablets, the RBL badge and flagpole.