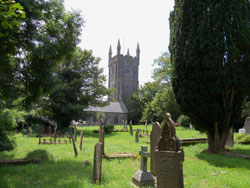 Welcome to Ludgvan Parish. Situated in the far west of Cornwall it lies to the south of St Ives in a narrow neck of land which is bounded to the north by the Penwith Moors and to the south by glorious Mounts Bay.
The area encompasses a number of small villages which include Crowlas, Cockwells, Canon's Town, Whitecross and Long Rock, plus a number of hamlets. At the heart of the Parish is Ludgvan Churchtown where the 14th century church of St Paul's is located and where spectacular views of St Michael's Mount can be enjoyed.
Today Ludgvan's economy relies mainly on small industry, farming and tourism whilst there are also a number of large retail outlets at Long Rock. Housing is a mixture of traditional Cornish granite and slate cottages, Victorian houses and modern dwellings.
Ludgvan is a thriving community and holds a number of events throughout the year amongst which are a popular flower and produce competition, a country fair and traditional Cornish feast, which is held in January. The village of Ludgvan has a popular and thriving primary school, a childcare centre – The Oasis, a community centre, two public houses and a post office. A number of community groups meet regularly around the parish catering for both young and old. These include: a historical society, the luncheon club, two youth groups, sports teams and many more.
Ludgvan is also an excellent location for those who enjoy the outdoor life. St Michael's way, a popular and established footpath, runs through the parish and there are a multitude of bridleways and other footpaths to explore the natural environment. There are also many locations within the parish and nearby for those who enjoy bird watching and fishing. 
The Civil Parish of Ludgvan forms part of the Penwith peninsular, the toe-like promontory of land at the far west of Cornwall – the most westerly part of mainland England.
It is bounded to the south by Marazion and the sea, to the east by St Hilary and St Erth, to the north by St Ives and Towednack and to the west by Madron and Penzance parishes.
According to Tonkins Natural History of Cornwall (1739) the name Ludgvan (Cornish: Lusowen or Ludewan – depending upon source) derives from 'LUG VAN' or the 'High' or 'Hilly' place. Anyone who has trudged up Church Hill from Lower Quarter to Church Town can testify to Ludgvan's 'hilliness'.
Ludgvan has a very long recorded history, extending back to the Domesday Book of 1086 (see extract below) and probably a good deal earlier. Indeed, in June 1793, a Roman urn containing very old and corroded coins was discovered by labourers while digging a trench on the parish border near the sea. Buried in sand two or three feet under the surface the coins were later dated as being mainly from the reigns of Emperors Gallienus (218 – 268), Victorinus (269 – 271) and Tetricus (271 – 274).
Early records show that, much as you would expect from a largely rural parish that is almost surrounded by water but with the additional benefit of substantial metallic deposits, the principal sources of local employment were fishing, farming and tin and copper mining.
A long history of mining in Cornwall (which started in the early bronze age c2,150 BC) came to an end in 1998 when South Crofty tin mine (located just a few miles along the A30 from Ludgvan) finally closed. There are now no active metalliferous mines in the whole of Cornwall.
For agriculture, the arrival of the railways brought access to new markets and this, in turn, brought changes in the production profile with more emphasis being placed on the cultivation of potatoes, cauliflower, sugarbeet, flowers, etc.
Famous former residents
Famous former residents of Ludgvan include William Borlase (1696 – 1772) a Fellow of the Royal Society, noted geologist, naturalist, historian and antiquarian and Rector of Ludgvan from 1722 until his death in 1772. Another famous former resident was Canon Arthur Townshend Boscawen (1862 – 1939) – Rector at Ludgvan from 1893 until his death.
Canon Boscawen, a noted horticulturist, is credited with introducing the anemone to Ludgvan (which is why we show an anemone in the bottom right hand corner of some of our web pages) as well as many species of plants and rare trees to the gardens at Tregothnan, the family home in Cornwall. He is also credited with pioneering the fruit and flower growing industry in Cornwall.
Sir Humphry Davy (1778 – 1829) Fellow of the Royal Society, the noted chemist and inventor of the famous Davy Lamp which allowed miners to work safely in the presence of flammable gases, although born in Penzance was mainly brought up on the family estate at Varfell, Ludgvan. Records of the Davy family extending back as far as 1635 are still held in St Paul's Church, Ludgvan.
"It is alleged that the last native wolf in England lived in the forests of Ludgvan, near Penzance and was finally captured at Rospeith, Ludgvan" (Robert Hunt – Popular Romances of the West of England). Rospeath Farm still exists today.
St Paul's Church:
The parish church of St. Paul, Ludgvan is in the Anglican Diocese of Truro. There is evidence that there was a place of worship on the site as early as the seventh century. The original church was dedicated to St. Ludewon or Ludvon but nothing remains of this building except the font, which is Norman. During the fourteenth century the chancel was rebuilt and on 14 July 1336 the church was re-dedicated to St. Paul.
Extract from the Domesday Book (1086)

Doomesday Book, folio 122d, chapter 5, section 3, paragraph 27 [James 1861].
Translation – He [Richard son of Thorolf] also holds LVDVHA [Ludgvan, from the Count of Mortain]. Alwin held it in the time of King Edward [before 1066], and paid tax for 1 hide [120 acres]; 3 hides there, however. Land for 15 ploughs or 30 ploughs; 3 hides 12 ploughs there [with, perhaps, 8 oxen each]; 9 slaves; 14 villagers and 40 smallholders. Pasture, 300 acres. Formerly 100s; value now 60s. Exon Domesday says "3 hides of land there; it paid tax for 1 hide. 15 ploughs there. Richard holds for the Count", that 1 virgate [30 acres] and 3 ploughs were held by lord, remainder by the villagers and that there were "27 unbroken mares; 22 cattle; 17 pigs; 140 sheep". [Thorn 1979]
Our thanks:
For their contributions to this necessarily brief 'overview' of the history of Ludgvan our thanks go to Pauline Rowe (Ludgvan Branch of the Old Cornwall Society), Rick Parsons at http://west-penwith.org.uk/ , Bill Curnow and Muriel Laity, author of 'Memories of a Cornish Village'